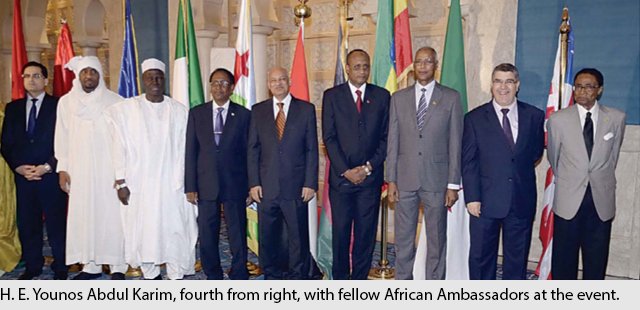 Malawi Embassy on 18th May, 2015, was among 27 African Embassies that participated at this year's Africa Day event in Kuwait. 
The event is organized by African Embassies accredited to the State of Kuwait and this year's theme was: 2015 Year of Women Empowerment and Development towards Africa Agenda 2063.
Speaking at the event, the Director of Africa Department in the Ministry of Foreign Affairs His Excellency Hamad Al-Meshan emphasized Kuwait's commitment to the consolidating cooperation with Africa. He said Kuwait remains committed to supporting the development of infrastructure in Africa through the Kuwait Fund for Arab Economic Development.
The Deputy Dean of Diplomatic Corps who is also Ambassador of Somalia to Kuwait His Excellency Abdulqadir Amin Sheikh Abubakar underscored Africa's progressive steps in many areas including fight against terrorism and extremism and the efforts to achieve lasting peace, integration and sustainable development. 
Africa Day, which is also known as Africa Freedom or Liberation Day, is an annual commemoration of the 1963 founding of the Organization of African Unity (OAU), presently known as the African Union (AU).
The day is used to showcase Africa's hospitality, unity, cultural diversity and traditions. It is also used to celebrate peace and prosperity that Africa has achieved since independence. 
The initial purpose of the day was to annually mark the progress of liberation movements and symbolize the determination of the people of Africa to free themselves from foreign domination and exploitation. It has also been used to showcase achievements Africa has realized politically, socially and economically and reflect upon common challenges the continent faces in a global environment.
Malawi Embassy displayed various tourism and cultural artifacts, agricultural products such as tea, coffee, sugar beans, rice, macadamia nuts and ground nuts. Many patrons who visited the Malawi pavilion received tourism brochures, tested Malawi's delicious macadamia nuts and accessed various forms of information on Malawi, the Warm Heart of Africa, which is an attractive destination for investment and tourism, with pristine beaches, rich culture and very friendly and welcoming people.