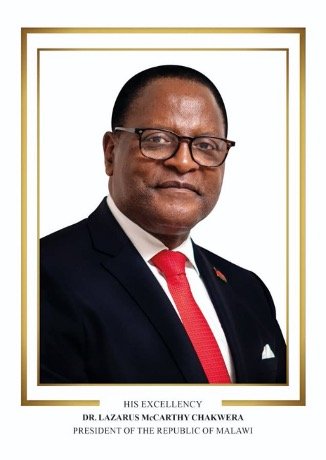 His Excellency Dr. Lazarus Mc Cathy Chawera was on Sunday, 28th June 2020, sworn in as President of the Republic of Malawi.
On Saturday, 27th June 2020, the Malawi Electoral Commission declared Dr. Chakwera winner of the Fresh Presidential Elections which were sanctioned by the Constitutional Court after the initial elections held in May 2019, were overturned following allegations of widespread irregularities.
Malawi is only the second African country south of the Sahara to have presidential poll results overturned in court, after Kenya in 2017.
And it is the first time in the region that a vote re-run has led to the defeat of an incumbent leader.
Taking his Oath of Office, His Excellency Chakwera, 65, said "I… do solemnly swear that I will well and truly perform the functions of the high office of the president of the Republic of Malawi and that I will preserve and defend the constitution."
His Excellency Chakwera, who is President of the Malawi Congress Party, was torch bearer of a coalition of nine opposition political parties "Tonse Alliance", which teamed up against the former ruling Democratic Progressive Party.
Malawi Congress Party, Malawi's oldest party, is the main opposition party which ruled Malawi for three decades from 1964 to 1994 under former President Dr. Hastings Banda's one-party rule.
Right Honourable Dr. Saulos Chilima, who is leader of the United Transformation Movement, was sworn-in as Vice-President.
Some 6.8 million Malawians voted in Tuesday, June 23. 2020 polls after the Malawi Constitutional Court annulled the previous polls on 3rd February, 2020 and ordered fresh elections within 150 days.
Addressing supporters in the Capital, Lilongwe, Dr. Chakwera vowed to restore faith in the possibility of having a government that serves and fights for the people.
He called for unity and assured those who did not vote for him that his Presidency would ensure prosperity for every Malawian.
Dr. Chakwera contested against Professor Peter Mutharika, leader of the Democratic Progressive Party and Mr. Peter Dominic Kuwani, leader of Mbakuwaku Movement for Development.