Guest of Honour H.E Ali Sulaiman Al-Saeed (in the middle), Dean of Diplomatic Corps H.E. Abdou Lahad Mbacke and Deputy Dean and Ambassador of Botswana H.E. Lesetedi Manyepedza are welcomed at the Malawi pavilion by Ambassador Jaffalie Mussa and his Deputy Mr. Alison Liwanda
The Embassy of the Republic of Malawi in Kuwait on 8th December, 2019 took part in activities to mark the 2019 Africa Day commemoration at the Crowne Plaza Hotel in Kuwait.
African Embassies accredited to the State of Kuwait used the event to showcase rich African cultures as well as trade and investment opportunities prevailing in their respective countries.
Speaking to the media at the event, Guest of Honour Assistant Foreign Minister for Asian Affairs His Excellency Ali Sulaiman Al-Saeed said Kuwait values the deep-rooted and historical ties that exist with African countries.
He said through the Kuwait Fund for Arab Economic Development, Kuwait has significantly contributed to the social and economic development of African countries.
His Excellency Ali Sulaiman Al-Saeed also lauded the important role that Kuwait-based charitable organizations are playing in contributing to the social and economic development of African countries.
He particularly highlighted the humanitarian role that the late Dr. Abdul Rahman Al-Sumait played in Africa after establishing a charitable organization called African Muslims Agency, currently known as Direct Aid which continues to assist thousands of less privileged people.  He said late Dr. Al Sumait was a beacon of hope to many and that through his philanthropic work he touched many lives and represented the great Kuwait traditions and compassion.
Late Dr. Abdul Rahman Al-Sumait's idea to establish the Africa Muslims Agency was hatched in Malawi in the 1980s where he formed an organization called Malawi Muslims Committee.  He later changed the name to Africa Muslims Agency, and then later changed it to Direct Aid.
The Dean of Diplomatic Corps who is also Ambassador the Republic of Senegal His Excellency Abdou Lahad Mbacke appreciated the cordial and warm relationship existing between Kuwait and Africa.
He appreciated the support that the State of Kuwait continues to extend to Africa towards her social and economic development. He said Africa is a cornerstone of Kuwaiti Foreign Policy as manifested in Kuwait's commitment to support initiatives to eliminate obstacles that hinder Africa's social and economic development.
His Excellency Mbacke underscored African Union's vision as espoused in the organization's Agenda 2063, which focuses on political, social, and economic development to be realized through the continent's aspirations in building a new partnership with the rest of the world, and the Gulf region, in particular.
During the event, Malawi Embassy displayed various tourism and cultural artifacts, agricultural products such as tea, coffee, sugar beans, rice, chili and ground nuts. Many patrons who visited the Malawi pavilion received tourism brochures, and accessed various forms of information on Malawi, the Warm Heart of Africa, which is an attractive destination for investment and tourism, with pristine beaches, rich culture and very friendly and welcoming people.
Africa Day, which is also known as Africa Freedom or Liberation Day, is an annual commemoration of the 1963 founding of the Organization of African Unity (OAU), presently known as the African Union (AU).
Africa Day is used to acknowledge the progress that Africa has made while reflecting upon the common challenges the continent still faces in a global environment.
African countries use the day to showcase Africa's hospitality, unity, cultural diversity and traditions. It is also used to celebrate peace and prosperity that Africa has achieved since independence.
The initial purpose of the day was to annually mark the progress of liberation movements and symbolize the determination of the people of Africa to free themselves from foreign domination and exploitation.  It has also been used to showcase achievements Africa has realized politically, socially and economically and reflect upon common challenges the continent faces in a global environment.
This year's Africa Day commemoration was shifted from June to December, because it coincided with the month of Ramadhan and summer holidays during which majority of prominent Kuwaiti officials, who are the primary target for the commemoration, were either busy with fasting or had travelled out of Kuwait.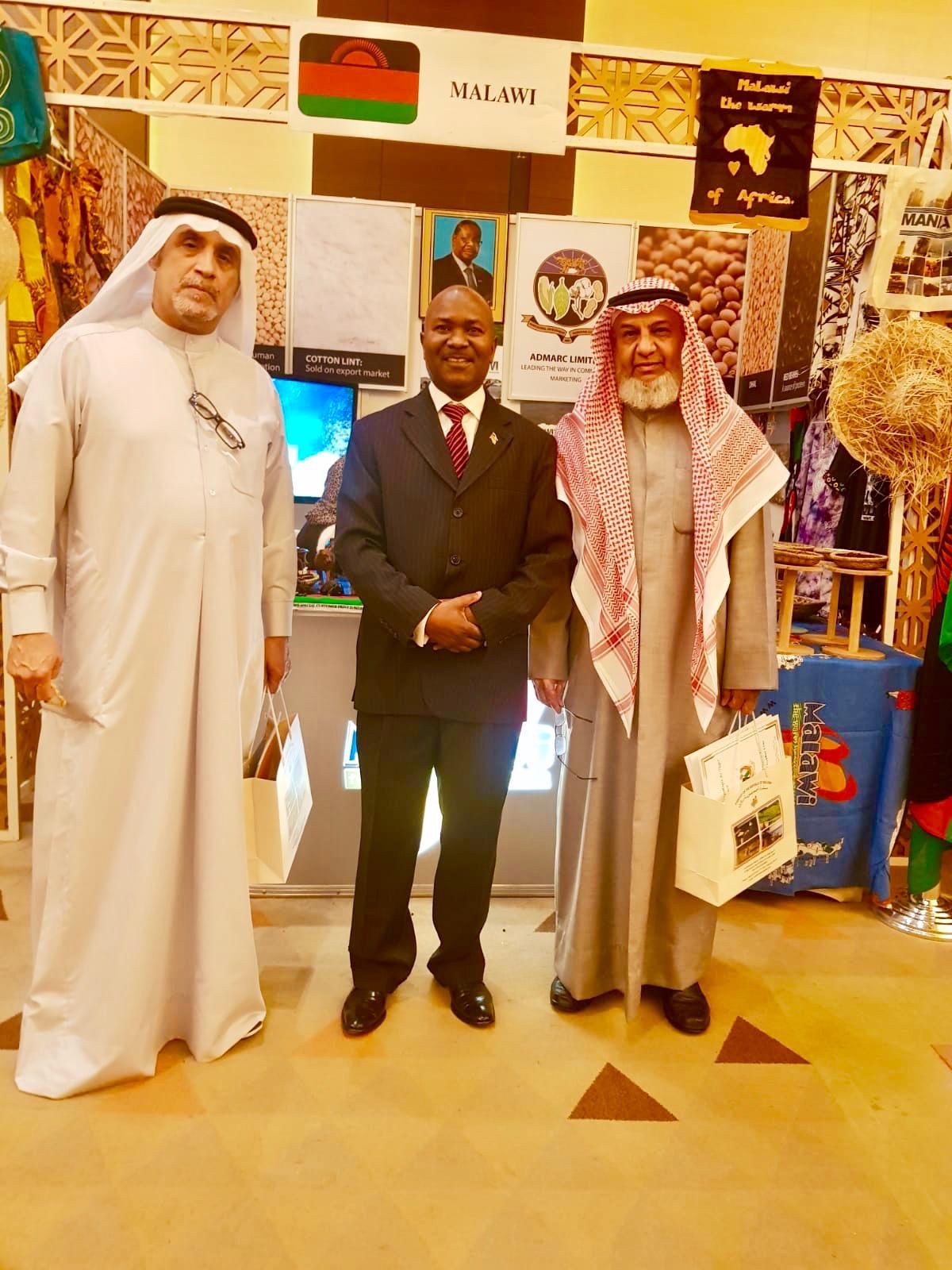 Ambassador Mussa and patrons at the Malawian pavilion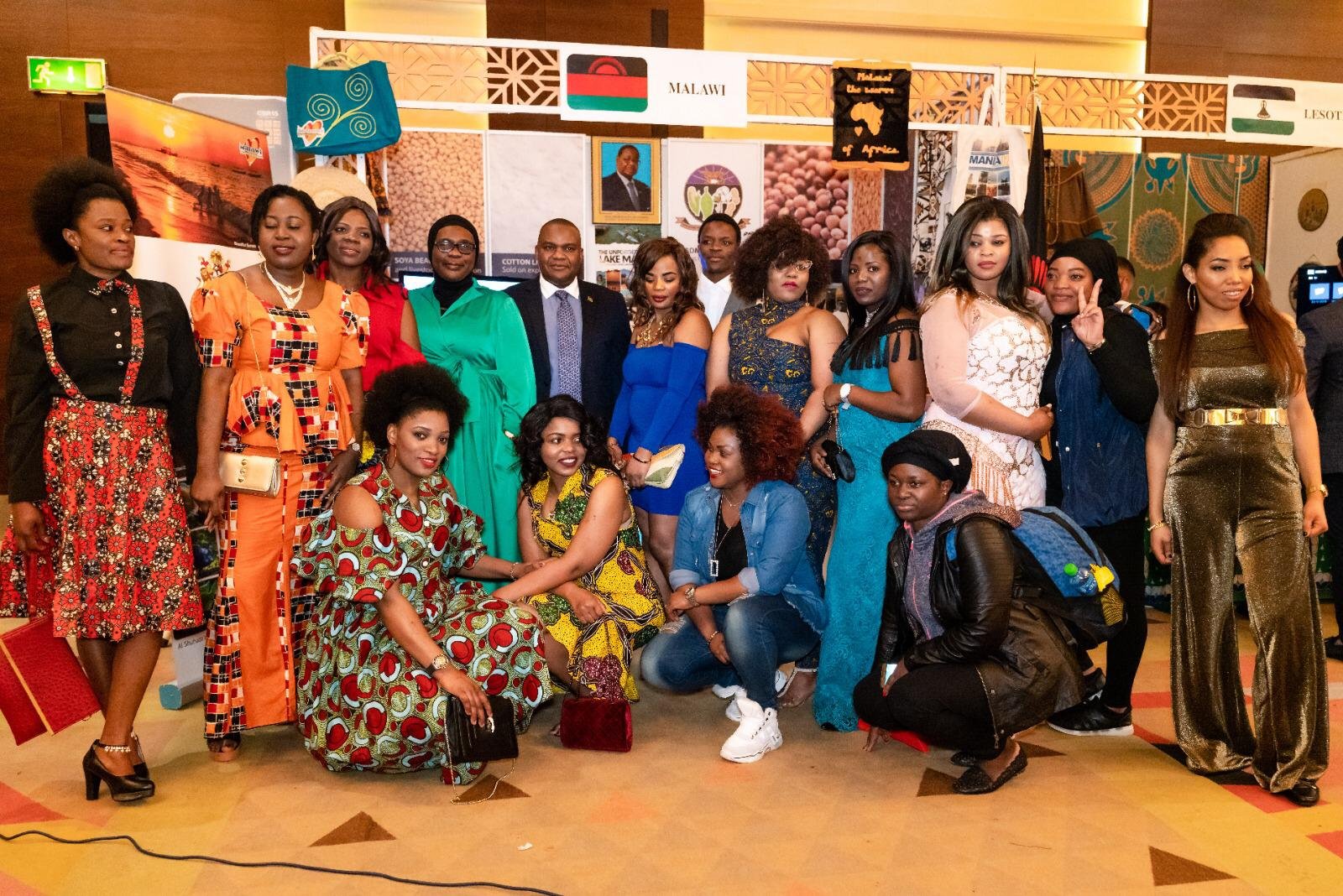 Malawian nationals who attended the event pose for a photograph at the Malawi pavilion