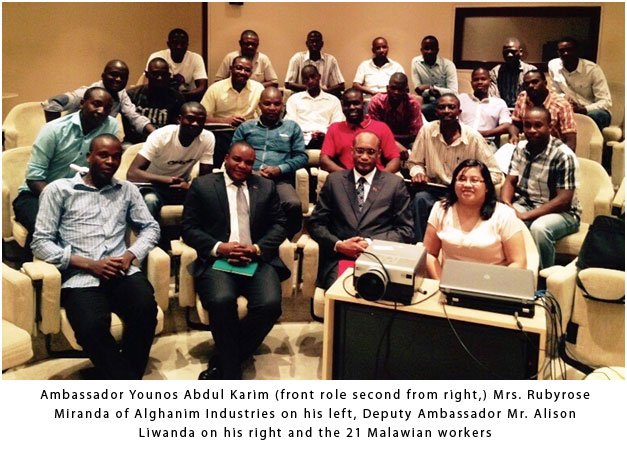 His Excellency Younos Abdul Karim, Ambassador of the Republic of Malawi to the State of Kuwait, on 14th July, 2015 addressed twenty one (21) Malawian workers who secured employment at the Kuwait-based company Alghanim Industries.  The workers were recruited through the Job Centre based in Lilongwe.
The company's management organized an orientation programme for the newly recruited Malawians and invited the Ambassador to address them. 
In his remarks, His Excellency the Ambassador thanked Alghanim Industries for considering Malawian workers to be part of its highly motivated work force.He said Malawi was an attractive source of reliable labour because Malawians are well-educated, English speaking, highly trainable, hardworking and polite people.
He described Malawi as an attractive investment destination because it is politically stable, secure,peaceful, respects the rule of law and protects investments in many ways. He encouraged the company to consider investing in various sectors of Malawi.
His Excellency Ambassador Younos Abdul Karim then urged the Malawian workers to promote and protect the image of the Republic of Malawi by working hard, behaving well and abiding by the laws and customs of the host country. 
He advised them to acquire as much skills as possible which he said will be critical to the development of Malawi on their return back home. 
He encouraged them to keep in touch with the Embassy of the Republic of Malawi in Kuwait which will ensure protection of their welfare. 
The Ambassador expressed appreciations to Job Centre for contributing to the social and economic development of Malawi through creation of job opportunities. 
In her remarks Alghanim Industries Senior Recruitment Officer Mrs. Ruby Rose Miranda said they were excited to have Malawian workers who will increase diversity to the company's workforce.    She assured the workers of the company's attractive working conditions and commitment to respect for workers' rights. 
Alghanim Industries is a multi-billion dollar conglomerate with more than 30 subsidiary companies. The company, which is one of the largest privately-owned companies in the Gulf region, employs about 14 000 employees from 64 countries. The company has a strong presence in the Middle East, India and Turkey, with operations currently extending to Eastern Europe, Africa, East and Southeast Asia. 
The recruitment of the Malawian workers is linked to the Malawi Investment Forum that the Malawi Investment and Trade Centre organized in November 2014 in Dubai, United Arab Emirates, in collaboration with the Dubai Chambers of Commerce and Industries.  The symposium attracted over eighty companies from the United Arab Emirates and Kuwait.  Job Centre, which attended the symposium, agreed with Kuwait companies to   export Malawi labour into Kuwait.