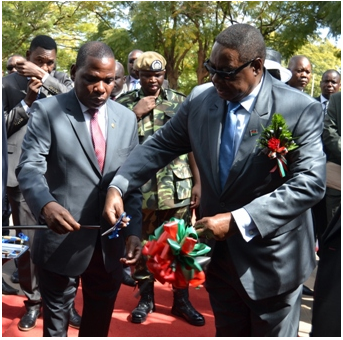 His Excellency the President Professor Peter Mutharika Friday, 22nd May officially opened the 27th Malawi International Trade Fair at Chichiri Trade Fair Grounds in Blantyre with a call for Malawians to support Small and Medium Enterprises-SMEs by buying Malawian products.
President Mutharika said his Government recognizes the importance of SMEs and entrepreneurship as drivers of economic growth and poverty reduction. He was pleased that many SMEs were taking part in this year's Trade Fair.
"Let us support our SMEs by buying Malawian products. In so doing, we will be promoting and encouraging industrialization thereby creating jobs and reducing the structural trade deficit," said Mutharika.
In addition, President Mutharika encouraged large companies to develop business linkages and support SMEs by buying and procuring goods and services as well as entering into smart partnerships with them.
To ease accessibility of working capital by these SMEs, Mutharika said Financial Institutions need to develop innovative products and matching grants that can grow businesses.
The President also said the theme for this year's trade fair "Achieving Regional Integration through Trade" was relevant to his administration's policies and efforts on regional economic integration.
"I am saying all this because no country in the world has grown on its own without participation in the global village and Malawi is no exception. It is through participation in the different regional economic integration initiatives that small countries like Malawi will grow," said Mutharika.
He then assured exhibitors of government's commitment in facilitating the hosting of such annual Trade Fairs.
"We, therefore, need to embrace trade fairs as one platform to showcase products and learn new ways of doing business. In this regard, I would like to urge all Malawians to take this event seriously and to urge public officers in Government to provide the necessary support to participants in such events," said Mutharika.
Minister of Industry and Trade Joseph Mwanamveka said this year's theme resonates well with government's agenda of promoting export trade as one of the key components of its economic and development agenda.
Mwanamveka also said the fair was time considering that in June, the President, together with fellow Heads of State and government, will be signing a grand regional integration arrangement called the Tripartite Free Trade Agreement.
The agreement will see the integration of 26 African countries from COMESA, the East African Community and SADC into a seamless 1 trillion dollar market of over 600 million people, and covering over half of the African continent, according to Mwanamveka.
Mwanamveka also said his ministry will strive to create a conducive environment for industries to thrive and enable Malawi take full advantage of regional integration.
Over 220 businesses and a handful of international exhibitors are participating in this year's International trade fair. Only four pavilions are for participants from India, Kenya, Zimbabwe and Tanzania.
The foreign participants add value and colour to the Trade Fair through the business interactions and deals with local enterprises and the public.
Trade Fairs are organised by the Malawi Confederation of Chambers of Commerce and Industry (MCCCI) and its representatives are proposing strong collaboration between the private sector and the government to ensure increased impact of international trade fairs.
Meanwhile, some companies have been awarded for their best exhibitions at the Trade Fair. They include: Pharmanova from the manufacturing sector; the service sector award has gone to Finca Malawi; Monsanto Malawi has been awarded as best exports exhibitor and the overall best exhibitor award has gone to ADMARC.