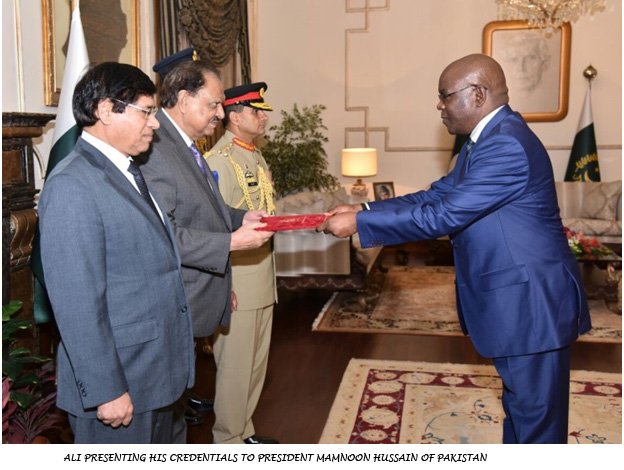 His Excellency Mr. Wilfred ALI has pledged to work tirelessly to deepen the already existing bilateral relations between Malawi and the Islamic Republic of Pakistan.
His Excellency ALI was speaking on 2nd August 2016 in Islamabad, the capital city of Pakistan, after presenting his Letters of Credence to His Excellency Mamnoon Hussain, President of the Islamic Republic of Pakistan at ceremony that was held at the Ajwan e-Sadr Palace in the city, accrediting him as Malawi High Commissioner to Pakistan on non-residential basis.
High Commissioner ALI, who resides in Kuwait as Ambassador for Kuwait and other eight Gulf states, conveyed a message of goodwill from His Excellency Professor Arthur Peter Mutharika, President of the Republic of Malawi to His Excellency Mamnoon Hussein wishing him personal good health, and success as well as prosperity of the people of the Islamic Republic of Pakistan.
The Malawi Envoy, who presented his Letters along with two other envoys from Denmark and Slovak Republic, expressed his desire to ensure that during his tour of duty, trade figures between the two countries should either double or even treble.
The High Commissioner said the Government of the Republic of Malawi, under the leadership of His Excellency Professor Arthur Peter Mutharika, is implementing a reform programme aimed at boosting productivity and effectiveness in every sector of the economy through enhancing the capacity of civil servants such as diplomats. He therefore asked for technical assistance in terms of scholarships for Malawian diplomats at the Foreign Service Academy of Pakistan to boost their capacity and enable them to effectively enhance bilateral relations between Malawi and other countries including Pakistan, in areas of trade and investment.
His Excellency ALI informed His Excellency President Mamnoon Hussain that Malawi was experiencing food shortage following prolonged dry spells due to El Nino weather conditions. He said in view of this situation, His Excellency Professor Arthur Peter Mutharika declared all the affected areas as disaster zones and appealed for humanitarian relief assistance. The High Commissioner then requested the Government of the Islamic Republic of Pakistan to consider assisting those affected with food aid and medical facilities.
In response, His Excellency President Mamnoon Hussain assured the High Commissioner of his support during his term of office, saying his government has special interest in working with and enhancing the country's relations with African countries including Malawi under the current "Go Africa" policy which Pakistan is implementing to increase investment presence and trade interaction with the Africa continent.
His Excellency Mamnoon Hussein assured His Excellency ALI of his government's commitment to helping Malawi in capacity building, saying Pakistan Government, through the Ministry of Foreign Affairs and the Capacity Building Department, will extend scholarship opportunities in diplomatic studies and other exchange programs to Malawi including other institutions such as police and the army.
Pakistan stands as a strategic trade partner with Malawi considering its population of over 180 million that can offer a huge market opportunity for trade mostly in tea, tobacco and other agro-based products which Malawi produces. So far there is a sizable trade flow between Malawi and Pakistan but with a great potential to grow if well nurtured with proper bilateral arrangements to support trade and investment between the two countries. Malawi's trade imports from Pakistan for 2015 stood at US$4.4 million in areas of worn clothes, tarpaulins, semi-milled rice and cement; while exports from Malawi in the same year stood at US$0.06 million with items such as tea, wooden furniture and precious stones in the lead.
Malawi can also benefit from bilateral relations with Pakistan in technical assistance such as training in diplomatic and military studies as well as banking, capacity building, agricultural technology, civil aviation and the restructuring through the establishment of a Diplomatic School in line with the current efforts to establish career diplomacy in Malawi.
In addition to Pakistan, His Excellency Wilfred ALI has already presented his credentials in two other countries out of the ten countries he is accredited to following his presentation of the same in Kuwait and in Qatar. He still have to present his credentials to the Kingdom of Saudi Arabia, Bahrain, the United Arab Emirates, Sultanate of Oman, Yemen, Iraq and Iran, where the Embassy of the Republic of Malawi in Kuwait is also accredited to in the Gulf region. This is a region of vibrant imperative of job opportunities in skilled labor for Malawians and is a region with an increased realization of a source for Malawi's investment for both small and medium enterprises and larger companies. Countries in this region offer enormous opportunities for cooperation in various sectors, especially them being ultimate importers of food items, an opportunity that Malawi needs to take advantage of by aggressively consolidating its relationships with countries in the region to attract direct foreign investment and to stimulate more trade relationship.
With a population of about 84 million of an average spending power of US$28,000 per capita income and a combined Gross Domestic Product of US$1.7 Trillion, the region has strong and vibrant economies with the potential for stimulating trade with Malawi. It has the world's largest producing and exporting counties of petroleum and petrochemical products, fertilizer and cement. Only in 2014/15, the region registered a total trade volume of US$920 Billion with Oil, Natural gas, Transport equipment, Textile, Aluminum, Petrochemical products, Plastic, Cement and Rubber as the main exports. Whilst Food items, Precious metals and mineral products were the main imports into the region.
The Arabian Gulf countries house the most reputable financial institutions of the world such as The Kuwait Fund, OPEC Fund, Abu Dhabi Fund, The Islamic Development Bank, Qatar Fund, The Saud Fund and the Bahrain Fund that can support both Malawi's public investment especially in infrastructure development and also private sector financial needs with concessionary loans and grants.
It is with the foregone information that Malawi private sector is encouraged to contact the Ministry of Foreign Affairs and International Cooperation or possibly direct with the Embassy in Kuwait to explore and cease this trade and investment opportunities countries of the region offer by contacting them, through the details on its website: http://malawiembkuwait.com/contact