Malawi Embassy Participates in the 2018 African Day Festivities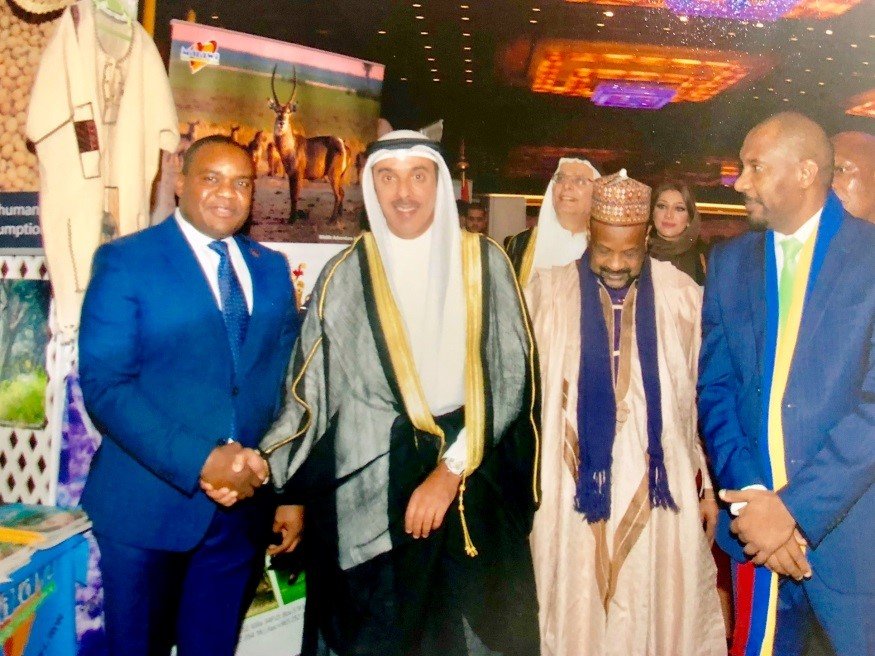 The Embassy of the Republic of Malawi on 30th October, 2018, joined other African Embassies accredited to the State of Kuwait in activities to mark this year's Africa Day at the Crowne Plaza Hotel in Kuwait. 
Speaking to the media at the event, Guest of Honour Assistant Foreign Minister responsible for Africa Affairs His Excellency Hamad Al-Mishaan said Kuwait cherishes the existing deep-rooted historical ties with Africa.
He greatly appreciated the support that Kuwait receives from African countries and expressed his country's keenness to ensure security and stability for Africa through Kuwait's non-permanent membership in the United Nation Security Council for the year 2018/2019.
Ambassador Al-Mishaan explained that Kuwait so much values Africa due to the various trade and investment opportunities it offers.   He then re-affirmed his government's desire to further consolidate its cooperation with African countries in all spheres and help the continent make good use of its rich resources.
He said Kuwait remains committed to supporting African countries in developing their infrastructure through soft loans provided by the Kuwait Fund for Arab Economic Development.
The Deputy Dean of Diplomatic Corps who is also Ambassador of Botswana His Excellency Lesetedi Manyepedza saidAfrican Day celebration provides a unique opportunity to African embassies to promoted and market available opportunities in the continent, explaining its image, presenting its capabilities, and deepening the friendly relations shared with Kuwait
He appreciated the support that the State of Kuwait continues to extend to Africa towards her social and economic development.
Africa Day, which is also known as Africa Freedom or Liberation Day, is an annual commemoration of the 1963 founding of the Organization of African Unity (OAU), presently known as the African Union (AU).
The day is used to acknowledge the progress that Africa has made while reflecting upon the common challenges the continent still faces in a global environment.   
African countries use the day to showcase Africa's hospitality, unity, cultural diversity and traditions. It is also used to celebrate peace and prosperity that Africa has achieved since independence.  
The initial purpose of the day was to annually mark the progress of liberation movements and symbolize the determination of the people of Africa to free themselves from foreign domination and exploitation.  It has also been used to showcase achievements Africa has realized politically, socially and economically and reflect upon common challenges the continent faces in a global environment.
This year's Africa Day commemoration was shifted from June to October because it coincided with the month of Ramadhan and summer holida
ys during which majority of prominent Kuwaiti officials, who are the primary target for the commemoration, were either busy with fasting or had travelled out of Kuwait. 
Malawi Embassy displayed various tourism and cultural artifacts, agricultural products such as tea, coffee, sugar beans, rice, chili and ground nuts. Many patrons who visited the Malawi pavilion received tourism brochures, and accessed various forms of information on Malawi, the Warm Heart of Africa, which is an attractive destination for investment and tourism, with pristine beaches, rich culture and very friendly and welcoming people.