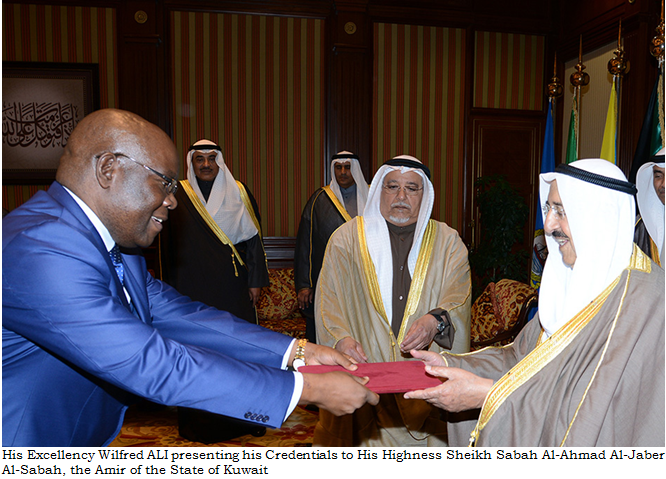 His Excellency Mr. Wilfred ALI on 1st December, 2015 presented his Letters of Credence to His Highness Sheikh Sabah Al-Ahmed Al-Jaber Al-Sabah, the Amir of the State of Kuwait, accrediting him as Ambassador extraordinary and plenipotentiary of the Republic of Malawi to the State of Kuwait.
Speaking at the ceremony, Ambassador Ali expressed His Excellency Professor Arthur Peter Mutharika's continued commitment to strengthening relations between Kuwait and Malawi. 
He assured the State of Kuwait that during his tour of duty, he will strive to further consolidate the bilateral relations already existing between two countries.
Ambassador ALI lauded the State of Kuwait for its continued support  towards Malawi's development in various sectors through the Kuwait  Fund for Arab Economic Development, OFID and the Arab Bank for Economic Development in Africa (BADEA).
The Ambassador said that is an attractive destination for investment and highlighted various investment opportunities Malawi offers which  he said could be of great interest to Kuwaiti investors.He cited agriculture, energy, tourism, and mining as areas of major interest.
In response, His Highness the Amir said he regards highly His Excellency the President Professor Arthur Peter Mutharika for his commendable commitment to improving the livelihoods of the people of Malawi.
The Amir further pledged his country's continued assistance to Malawi and assured the Ambassador that Kuwait highly values its relations with Malawi.  He said it is for this reason that his government feels obliged to assist as a way of contributing to the social and economic development of the brotherly nation of Malawi. 
Kuwait remains Malawi's strategic partner in the Gulf region. Malawi has benefitted significantly from her relations with Kuwait especially through infrastructural development. The country has co-financed construction of the Zomba–Jali–Phalombe-Chitakale, Thyolo–Makwasa-Bangula, the Mangochi-Naminga and the recently approved Machinga-Chingale-Lirangwe road projects through the Kuwait Fund.  Transport, education and agriculture sectors have also been salient beneficiaries of the Kuwait support through BADEA and OFID.
Ambassador Wilfred Ali, who arrived in Kuwait on 22 November, 2015, is also accredited to nine other countries including Bahrain, Saudi Arabia, Iran, Iraq, Qatar, United Arab Emirates, Pakistan, Oman, and Yemen.