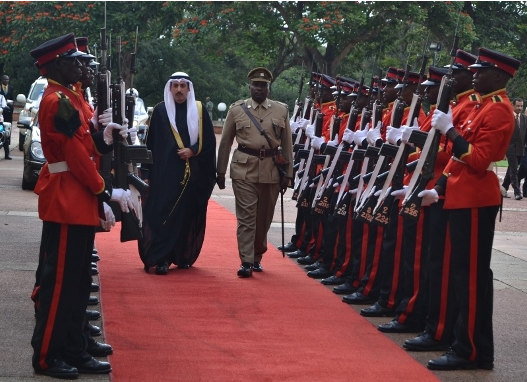 President Peter Mutharika on Wednesday consolidated Malawi's desire to have friends across the world, when he received letters of credence from North Korea, Austria and Kuwait at Kamuzu Palace in Lilongwe.
Kuwait Ambassador to Malawi, Ahmed Khalid Al Jeeran Tuesday said his government is keen to improve relationship between the two countries and promised assistance in areas of health and investment.
Speaking to journalists after presenting letters of credence to President Mutharika, Ahmed Khalid Al Jeeran said cooperation's between Malawi and Kuwait is one among the fruitful relations and that for years the two nations have worked so hard to make sure that the life of its people is improved for the better.
"I am so happy to have presented letters of credence to President Mutharika and among the top most issues we discussed is how to improve our health systems as well as investment.
"I therefore informed the President that Kuwait is ready to send its doctors to Malawi and provide the necessary assistance required by the Malawi Ministry of health," he explained.
He further said, "I am aware of the Kuwait charity organizations working in the country and we discussed with the President about the need to upscale the sector and also make sure that a larger number of people benefit from such organizations."
Other issues that the two discussed included the Kuwait fund which the Ambassador said his government was ready to release.
"Our officials will be coming to Malawi to further discuss about the Kuwait fund and other developmental projects," Ahmed Khalid Al Jeeran explained.
Also presenting letters of credence on Wednesday was Kim Hynon IL, Ambassador of North Korea.
In his speech Kim said despite that no specific areas were identified, his country is ready to assist Malawi in a number of sectors.
"I came to present my letter of credence and I will come shortly to discuss with the President on possible areas that we may assist," he said.
Kim Hynon IL, Ambassador of North Korea will be operating from Luanda while Ahmed Khalid Al Jeeran is based in Harare, Zimbabwe.